Final Result of the Online Qualifier of WhiteHat Grand Prix 06
10:30:00 | 07-01-2020
After 24 hours of competition, the Online Qualifier of the global cyber security competition WhiteHat Grand Prix 06 officially closed at 9:00 am on 05/01/2020.
The Organizer would like to thank the participation of all teams. WhiteHat Grand Prix 06 with the theme of Vietnam Todayhas attracted a record number of participants with 739 teams from 84 countries and territories around the world. Of which there are teams in the top 10 of the CTFTime such as dcua, p4team, perfectblue.
Top 10 from the Online Qualifier will expectedly participate in the Final Round in format of Attack/Defense and Private Bug Bounty . Here is the list of Top 10 to the Final Round: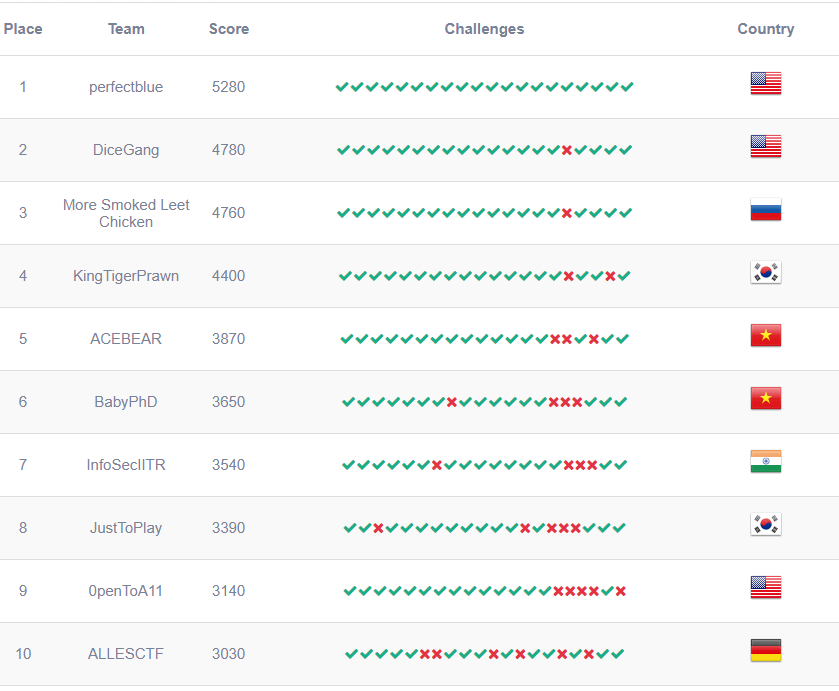 Writeups will be updated on WhiteHat.vn soon.
To rate and send your comments for the contest on CTFtime, please visit https://ctftime.org/event/942/weight/

To contribute the ideas for the contest, please visit: https://bitly.com.vn/azGPT

The Organizer would like to thank to all teams that participated in WhiteHat Grand Prix 06.

Yours sincerely!

Organizer of WhiteHat Grand Prix 06