4 Top-10 teams of the world gather in Hanoi for the Final Round of WHGP 2018
05:11:00 | 23-08-2018
August 19th 2018, the Qualification Round of WhiteHat Grand Prix 2018 under the topic Legends of Vietnam has ended. After 24 hours of competition, 10 teams from Korea, Ukraine, USA (2 teams), Vietnam (3 teams), Russia, France and Poland enter into the Final Round. In particular, 4/10 teams are in Top 10 of the world according to CTFTime (global Cyber Security ranking website). This year's competition attracts a total of 720 teams from 79 countries around the world, including 574 international teams.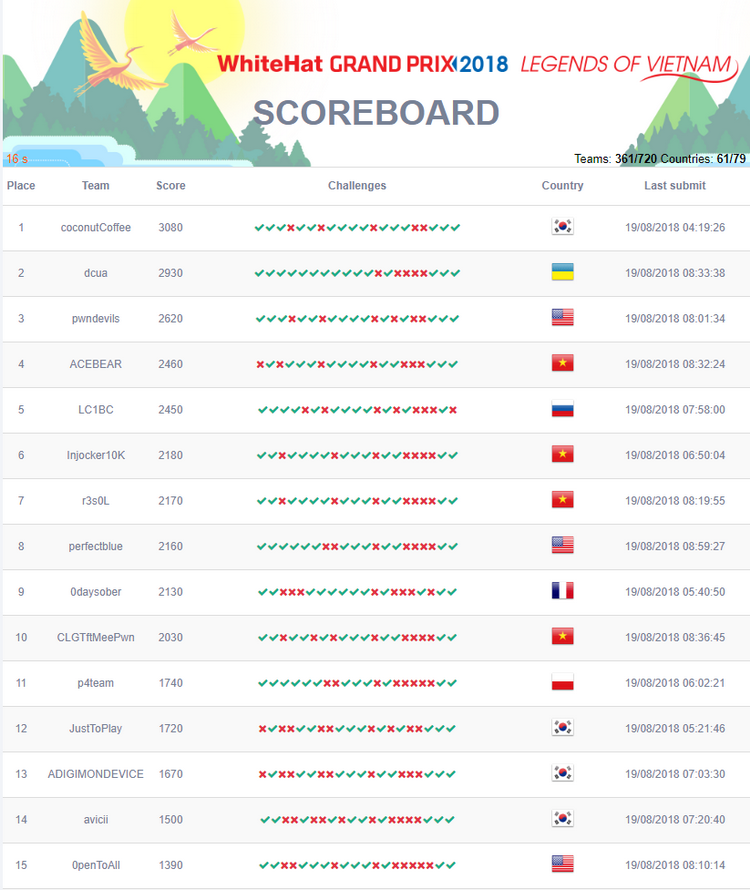 After this round, Top 10 teams will gather in Hanoi to participate in the Final Round in the form of onsite Attack/Defense.
The Qualification Round was a severe competition, the rankings of teams changed constantly. Initial advantage belonged to Asian teams such as India, South Korea and so on. In the end, the teams from Europe, America etc. asserted themselves as breaking through and occupied a lot of high positionss on the scoreboard.
The Final Round is in the form of Attack/Defense, scheduled to take place in the middle of October 2018 in Hanoi. This is a continuous 8-hour race among the Top 10. Also in this competition, the challenge of overcoming vulnerabilities on hardware devices has been first time put into a cyber security contest.
WhiteHat Grand Prix was first held at the national level in 2014 and started to expand globally from 2015, in collaboration with the Department of Information Security, Ministry of Information and Communications. In 2016, the contest attracted more than 500 contest teams from 52 countries with many teams in the Top 10 of CTFTime. WhiteHat Grand Prix 2017 witnessed the growth of Vietnam's cyber security experts when the first time team from Vietnam won the first prize.